Tattoo FAQ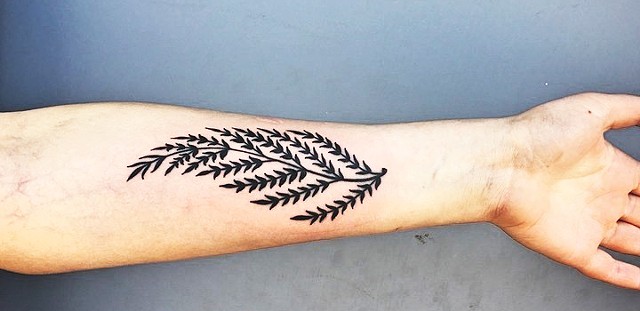 What days are you open?
Gold Standard Tattoo is open Monday through Saturday from 12pm to 7pm.
Do you accept walk-ins?
Yes! At Gold Standard Tattoo, we love walk-ins and will do our best to accommodate you. If we don't have time on our schedule that day, we'll do our best to fit you in ASAP.
Do you do piercings?
No. Gold Standard Tattoo is a custom tattoo shop only.
How much does a tattoo cost?
Costs vary by artist as well as by size, placement, and intricacy. If you have an idea for a tattoo, stop by the shop or schedule a consultation with Dirk or Kc to get a quote.
Do you accept credit cards?
No. Gold Standard Tattoo is cash only.
This is my first tattoo. Will it hurt?
There's no sugarcoating it: tattoos hurt. How much it hurts however depends on a lot of factors, like tattoo placement, whether or not you're dehydrated, and how well you tolerate pain.
How long will it take for my tattoo to heal?
Most tattoos take 2 weeks to heal, but may take longer for large or color dense pieces. During this time you should not soak the tattoo in water (hot tub, swimming, taking a bath) or expose it to direct sunlight.
But it's summer and I really want to float the river. Can't I just wrap it up and hit the water?
No. It's better to be patient and wait for your tattoo to fully heal before soaking it in the water or exposing it to the sun. Not only is it going to help your tattoo look better for longer, it also protects the tattoo from possible infections and fading.
What should I do for tattoo aftercare?
Once we finish your tattoo, we'll cover it with a special wrap to start the healing process. Leave this wrap on for 2-3 hours and then rinse off your tattoo with anti-bacterial soap. When you go to dry off your new tattoo, make sure you are using a clean towel to blot it dry -- remember, it is an open wound and you want to do your best to protect it. We recommend using Aquaphor or something similar to apply to your tattoo for the first few days. Apply a LIGHT layer 2-3 times a day after washing and then, when the tattoo starts to peel, switch over to plain, unscented lotion. Again, only apply a LIGHT layer of lotion and only use it when the tattoo starts to feel tight or especially dry.
Have another question? Give us a call at the shop: 541-312-5295